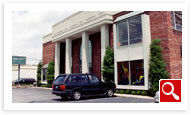 Nanz and Neuner Inc., was founded in 1850 in Louisville, Kentucky, after Henry Nanz left his native Germany where he had been a horticulturist.
In the year 1850, he opened a florist and greenhouse in the city. Henry Nanz and Henry C. Neuner formed a partnership in 1872 and by 1880 had established thirty acres of flower gardens and sixty greenhouses in St. Matthews, a suburb of Louisville. Henry Nanz Jr. took over the florist in 1895 from his father. His sister, Sally Ward Nanz, married Henry A Kraft Jr., who became a partner in the florist and his grandson, Edward A. Kraft Jr., eventually became the owner.
In 1958, the company name was changed to Nanz & Kraft Florist ®. After Edward A. Kraft Jr's death in 1967, his son Edward Ramsey Kraft became the owner and continued the tradition. On November 22, 1976, a fire completely destroyed the thirty-year-old building. Nanz & Kraft continued to operate from a temporary location at Rassmussen's on Hubbard's Lane while the new 20,000 square foot store was being built. The current store opened its doors in November, 1977.
Today, Nanz & Kraft Florist ® is one of the largest full service florists in Louisville and the surrounding areas. In 1988 E. Ramsey Kraft welcomed two of his sons, Edward R. Kraft and Michael A. Kraft into the business. In 1994 David L. Kraft, joined his father and brothers in the business. We continue to grow in size because we do the finest work on each and every floral product that leaves our store.
We now have three locations, Breckinridge Lane (our main store), Brownsboro Road, and Dixie Highway or "Southwest". Our trucks are equipped with two-way radios and we deliver city-wide three times daily. Nanz & Kraft Florist ® has the lowest delivery fee in Louisville that ranges from $5.95 to $13.95. We offer a full range of services; cut flower arrangements, fruit baskets, wedding planning, plants, silks, plant maintenance and design, and a wide assortment of giftware in our gift shop.
A trip down the memory lane
To read more about the history of Nanz & Kraft Florist ®, click here. (.pdf / 116 KB)