EMPLOYMENT
This business was founded on the principle of teamwork and the desire to work in a creative profession. This makes Nanz & Kraft Florists the "Best of Louisville" in the eyes of our customers and Louisville Magazine. Nanz & Kraft is a growth-oriented corporation dedicated to providing quality products of fresh flowers, silks, plants, and giftware. Nanz & Kraft employees strive to provide superior customer service in an environment that is beneficial to individual and corporate growth. Our customers are #1. Always! It's a good feeling knowing that as a team member, as long as you're doing what's best for our customer, we'll always have your back.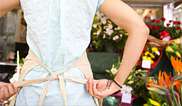 At Nanz & Kraft Florists, we tolerate nothing less than the best in every position. We do not categorize vertically but horizontally. We believe that a chain is only as strong as its weakest link. Nanz & Kraft Florists is a forward moving and thinking company. The days are not boring and the ideas and energy are always plentiful and exciting. The saying "Never Say No to the Customers" is the greatest challenge in business. It really happens here. We are always looking for the best people for our company. If this sounds like you, tell us a little about yourself. We are looking forward to your interview.
Please email your resume to Angie Searcy or fill out an application and bring it to our 141 Breckenridge Ln. Location. Interviews will be on a call back basis. *No interviews will be held on the spot.
Available Positions
Greenhouse Associate
We are currently seeking self motivated, enthusiastic individuals to assist clients with greenhouse product selection and provide excellent service with a great attitude and flexible schedule required.
Floral Designer
The heart and soul behind our creative designs, floral designers must have innate talent and originality with fresh flowers. Designers must have solid experience and a strong lineage of design skills. Our designer should be comfortable working independently and in teams where creativity and innovation are highly valued. No Floral experience? Please bring a portfolio of past work in your genre of art or creativity.
Office Sales & Customer Service
A vibrant team and community of some of our finest and most dedicated employees; the Customer Relationship Specialists provide world-class customer service and maintain important client relationships. Must have fantastic verbal skills with a positive attitude. This position is for our office call center.
Delivery Driver
Our drivers are the face of our company. We look for drivers who can represent our company well and impress our clients with world-class customer service. We want individuals that a have positive attitude, are full of energy and can bring a smile to work every day. If you think you're the right person for this job, then buckle up and get ready to deliver joy and excitement. Retirees welcome!
Warehouse Assistant
The strong backbone of all of our operations, the Warehouse Assistant is a jack-of-all-trades! We are looking for individuals with positive attitudes and flexible schedule required.